Tussar Silk is one of the most known fabrics for its purity and texture. Silk is one of the most sophisticated fabrics in Indian market. It is drawn from cocoons especially ...
Gurudeo Handloom
Chhattisgarh, India | Manufacturer / Exporters / Wholesale Suppliers
http://www.exportersindia.com/gurudeohandloom/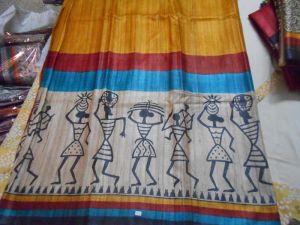 We are offering kosa gheecha saree with tribal art in bright colours.
Suvi's Fashion
Chhattisgarh, India | Manufacturer / Exporters / Wholesale Suppliers
http://www.exportersindia.com/suvis-fashion/
Diya Cotton
Chhattisgarh, India | Manufacturer / Exporters / Wholesale Suppliers
http://www.exportersindia.com/diya-cotton/
Navrang Fancy Cloth Stores
Chhattisgarh, India | Manufacturer / Exporters / Wholesale Suppliers
http://www.exportersindia.com/navrang-fancy-cloth-stores/
Irag Collection
Chhattisgarh, India | Manufacturer / Exporters / Wholesale Suppliers
http://www.exportersindia.com/iragcollection/
Chhattisgarh, India | Manufacturer / Exporters / Wholesale Suppliers
http://www.exportersindia.com/siremal-manaklal-deshlahra/
Matching Park
Chhattisgarh, India | Manufacturer / Exporters / Wholesale Suppliers
http://www.exportersindia.com/matching-park/
Hardaha Agency
Chhattisgarh, India | Manufacturer / Exporters / Wholesale Suppliers
http://www.exportersindia.com/hardaha-agency/
Bansal Brothers
Chhattisgarh, India | Manufacturer / Exporters / Wholesale Suppliers
http://www.exportersindia.com/bansal-brothers/
Pitambari Kosa Saree
Chhattisgarh, India | Manufacturer / Exporters / Wholesale Suppliers
http://www.exportersindia.com/pitambarikosasaree/
Aman Dresses
Chhattisgarh, India | Manufacturer / Exporters / Wholesale Suppliers
http://www.exportersindia.com/amandresses/
Rajasthan Handloom
Chhattisgarh, India | Manufacturer / Exporters / Wholesale Suppliers
http://www.exportersindia.com/rajasthan-handloom3012421/